Updated 6/12/2020
Practice Changes during COVID-19
We began preparing for this crisis two weeks before our first positive case in Boise, ID. Since then, our processes surrounding COVID-19 have been updated routinely. Here are the most recent steps we're taking:
What we're doing:
Strict hygiene practices
Requiring patients to complete our COVID-19 Exposure Risk Assessment prior to EACH appointment
All employees checking oxygen saturation levels and forehead temperatures at start of shift.
All employees are social distancing when away from work
Increasing circulation: leaving the clinic door open, running the HVAC fan and the ceiling fan during business hours, opening the windows on warmer days
We're signing each patient in and out
Thrive Pilates is teaching privates and semi-privates starting June 1, group classes remain online.
On March 25, we launched our Telehealth platform! See our blog post for a step-by-step guide on how you can access this NEW service
We invented the Cone of Empowerment (see picture – although now the cone is combined with both patient and PT wearing masks). We use these barriers when we need to be within 3′ of your face.
We're spacing 5 minutes between each patient. This allows more time to clean and fewer bodies in the clinic at once
We've suspended our cancellation fee for any reason that would prevent exposure to COVID-19,

we're still enforcing our cancellation policy for all other reasons

Clean bins:

linens are now stored in our laundry room. Each patient who visits us in-person receives a clean bin with a pillowcase, towel, hand sanitizer and cloth face mask. This bin can then be used to store your small personal items during treatment.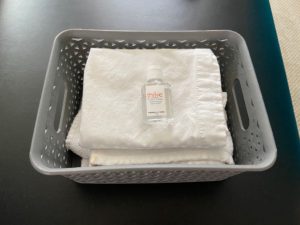 Physical therapists are wearing procedure masks when we treat patients in-person, admin staff wearing cloth face-masks
What we need YOU to do:
Complete the COVID-19 Exposure Risk Assessment before

EACH

appointment
Arrive to your appointment right on time. If you arrive early, or need to fill out paperwork, we have two indoor and two outdoor seating options that support social distancing. Pop in to tell us you're here, and where you are waiting.
All patients are required to wear a mask or face covering (per Idaho's Stay Healthy Order). Please let us know if you don't have a mask, we will provide one for you.
If you travel to and from a state or county with higher case rates than Ada County or the state of Idaho, we ask that you not come into the clinic for 14 days. We're happy to see you for a telehealth visit during the 14 day waiting period and will schedule you in-person after that.
Wash your hands before and after your treatment session
When checking out, please stand 6′ apart – follow the orange footprints
Use hand sanitizer after your payment transaction
Only come to PT in-person if you and your entire household have been in perfect health for the past two weeks. (Thank you for your true spirit of cooperation on this one!)
Feeling uncomfortable despite all the measures we're taking? Convert to a telerehab visit!
NOW OFFERING: Telehealth Physical therapy during COVID-19
Be sure to check out our newest service, telehealth physical therapy. Most private insurers and Medicare are covering telerehab during COVID-19. We check each patient's benefits prior to doing a telehealth visit. Some insurers are covering telehealth 100%!
We miss seeing so many of you. Please know we're available for you, whether in-person or via telehealth!