Normally, we collect patient payments at the time of service. But occasionally, patients will owe a balance on their account. The patient portal provides a secure and convenient way to pay your bill. Please follow the simple steps below to pay your bill if you receive an email notification that you have a balance due on your account.
How to view and pay your bill on the patient portal
1. Receive 'Balance Due' Email notification
If you owe a balance on your account, you'll receive an email from front-desk@thriveptpilates.com with the subject line Notice: Balance Due – Please Login to Thrive Portal.
2. Login to the Patient Portal to Pay Your Bill
Login to the Patient Portal. If this is your first time logging in and you need help, please read our article on How to Access your patient portal account. We are happy to assist you if you're having difficulty. If you need assistance, please call 208-344-0737 or email front-desk@thriveptpilates.com.
3. Click the Payments Tab or Icon
Click the Payments tab or icon to view your bill and enter your payment information.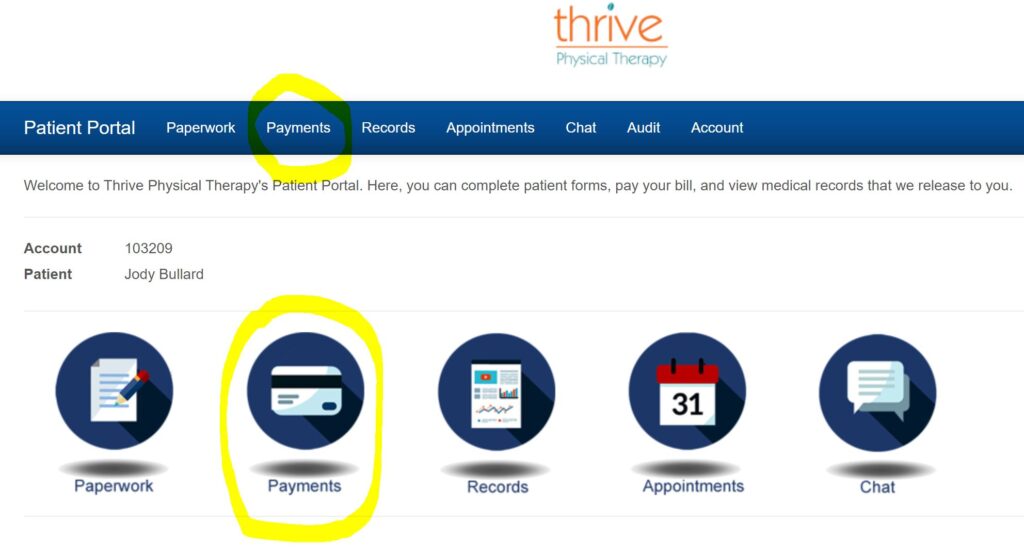 4. View and Pay Your Bill
Now you can click the View Statement link to view a PDF of your bill and then enter your payment information below. Any payments made through the patient portal will apply directly to your account. It's that simple!
Disclaimer