There are so many benefits to exercising outside. But summertime presents unique challenges. In Boise, Idaho, the main deterrents are excruciating heat, dryness, and smoke from wild fires. It's easy to give up and just stay inside. Here's the inside scoop on some easy hacks to help you get some workouts in the great outdoors during the heat of the summer.
Hack 1: Exercise Early
Depending on your heat tolerance, try to get out before 11:00 AM. If you really can't stand the heat or if it's one of the hottest days, get out by 7:00 AM. Keep in mind, it's not wise to sacrifice sleep for exercise. Plan your bedtime so that you still get a full night of sleep.
Surprisingly, in July and August in Boise, Idaho, the hottest part of the day extends from about 2:30 PM until 9:00 PM! Click the picture or the link if you want to play with this diagram more interactively. INTERACTIVE DIAGRAM.
Hack 2: Exercise On or Near Water
Hack 3: Swim Laps Outdoors
Boise City has five outdoor pools that offer lap swim times. They're open after Memorial day until school starts. Lap swim times (age 16+):
Natatorium Pool and Hydrotube

Daily: 12:05 – 1:30 PM
Monday – Friday: 5:35 – 6:35 PM
Pro Tip: Several of the Boise City Play Camps take the kids here on Friday afternoons. Unless you thrive on mayhem, avoid this time.

Lowell Pool

Monday – Friday: 12:30 – 1:30 PM and 5:05 – 6:35 PM
Saturday and Sunday: 12:00 – 1:30 PM
Pro Tip: Some of the Boise City Play Camps take the kids here on Wednesdays.

Ivywild Pool
Borah Pool

Daily: 12:05 – 1:30 PM
Monday – Friday: 5:35 – 6:35 PM

Fairmont Pool

Daily: 12:05 – 1:30 PM
Monday, Wednesday, Friday (2 lanes): 4:30 – 5:30 PM
Monday – Friday: 5:35 – 6:35 PM
Hack 4: Wet Your Clothes
Soak your shirt, wring it out, put it on and go!
It's like your own personal swamp cooler.
For longer cooling – use a cotton or cotton blend fabric so the moisture stays longer.
Hack 5: Wet Your Head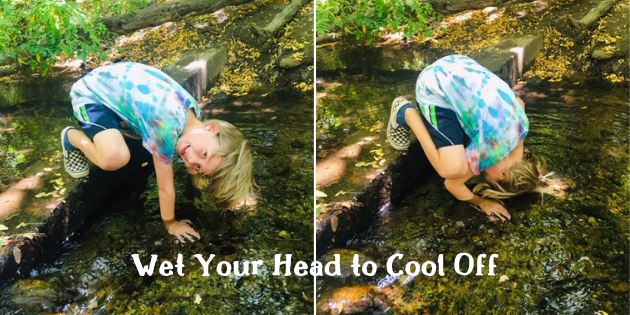 Hack 6: Ride or Run through Sprinklers
Hack 7: Head to the Hills
Bogus Basin Mountain Resort is open in summer. They have trails for mountain biking, hiking, and horseback riding. They also offer yoga, disc golf, live music and summer activities for the whole family.
For a more drastic change in temperatures, drive 2-3 hours north to one of Idaho's mountain towns to escape the heat.
Summertime Safety
Hydrate before and during exercise. Replenish electrolytes after your workout.
Shorten the duration of your workout on hotter days.
Wear sunscreen and sunglasses.
Avoid outdoor exercise when the Air Quality Index is Red, Purple, or Brown. Additionally, sensitive people like children, the elderly, and those with lung or heart problems, should avoid outdoor exercise on Orange air quality days.
Dreaming of the Cold Winter? Check out Winter Hacks to Keep You Exercising Outside
Disclaimer